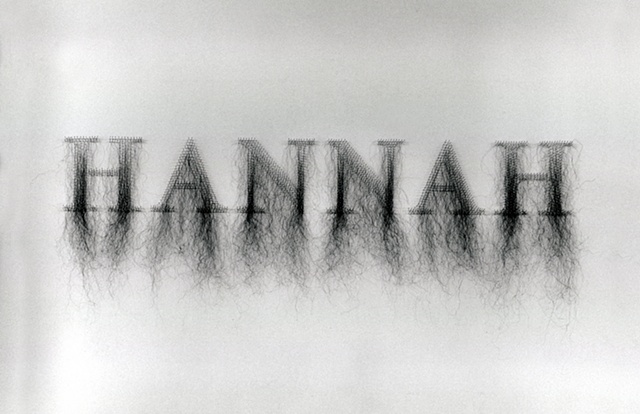 Every Word, Their Name
Straight pins are hammered directly into wall with one human hair draped over each pin.
Pin letter skeleton: 7 inches (18 cm.) high. Dimensions of installation are variable.
1993
Family names remembered, imagined and hoped for.
This image shows the original installation at YYZ Gallery in Toronto. Subsequently "Every Word Their Name was installed at the Ottawa Art Gallery for "Monuments in the Present Tense" curated by François Renaud, "Définition, situation, expiration" curated by Gilles Forest at Contemporain de Basse-Normandie, Hérouville, France,
"From Memory to Transformation" (Jewish Women's Voices Conference) curated by Mimi Gellman in Toronto, "L'excès" curated by Marie Fraser for Musée Régional de Rimouski in Quebec "Ritual Coping" curated by Vera Lemecha at the Dunlop Art Gallery in Regina.